We believe that the new levels of home prices reached during the housing rally not only will be sustained, but will be a positive force pulling us through inevitable bouts of uncertainty in markets and the economy.
As the U.S. economy climbs out of the pandemic doldrums, U.S. housing lays a solid foundation for sustainable value creation
While the U.S. economy spent much of 2021 battling its way out of the pandemic-induced doldrums, the U.S. housing market has been a shining star through it all. Far from being just a bright spot in an otherwise tug-of-war year of uncertain health issues, macro forces and economic growth, the rise in home prices represents a sustainable source of wealth creation and tappable equity for homeowners. Indeed, the housing bull market has evolved into a virtuous cycle that we believe will have positive and long-lasting implications for financial markets and the broader economy.
Many dynamics played into last year's comprehensive push higher, all of which were, and are, decidedly positive for U.S. housing and mortgage credit. Accommodative monetary policy – i.e., low rates, which help to maintain affordability and support consumer housing purchases – and fiscal and public policy enactments by legislators, regulators and the government sponsored entities (GSEs), are among the more obvious factors. Perhaps a development we take for granted but that is also a similarly important dynamic would be the shift in societal values toward household formation and homebuying.
As Figure 1 shows, the rise in home prices has been supported fundamentally, with household formation surging amidst a growing economy and gains in wealth.
Figure 1. Household sales growth vs. household formation growth and housing formations to completions trends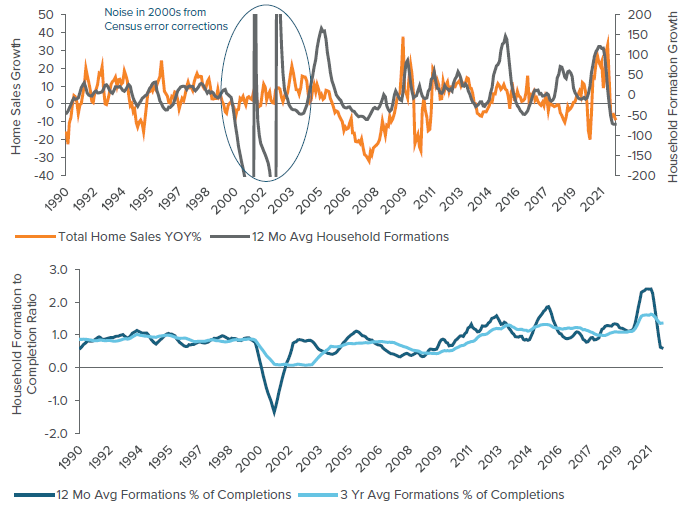 Source: Bloomberg and Voya Investment Management. Left chart as of 10/31/21; right chart as of 09/30/21.
What's notable about the 2020 surge in household formation is it indicates that speculative homebuying by leveraged investors was not the driver, which supports our view that the growth in home values is sustainable, and not a bubble predicated on unrealistic expectations for valuation gains. Indeed, household formation has outpaced housing completions (top display in Figure 1), providing continued support for housing activity. However, the implications of household formation do not stop with the housing market; it has also benefited consumption via higher demand for building products and housing related goods and services. 
Underscoring the sustainable nature of housing prices is the notable increase in consumer net worth and improved consumer balance sheets, which in turn help perpetuate ongoing appetite for housing and consumption. However, a perhaps more notable outcome is the now-record level of home equity available to homeowners (Figure 2). Taken together, the increase in available capital for spending and net worth for confidence has fueled a virtuous cycle of economic growth and wealth creation.
Figure 2. Tappable equity has risen to all-time highs and will prove an enduring source of accessible capital for homeowners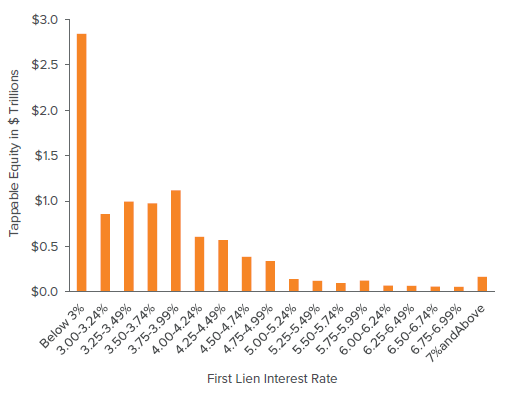 Source: Bloomberg and Voya Investment Management. As of 10/31/2021.
Mortgage markets have generally been supportive
The economic fallout that occurred during the onset of the Covid-19 pandemic led to an initial freezing of housing market activity and a severe tightening in mortgage lending conditions. Such conditions, coupled with stay-at-home orders, which introduced challenges with in-person home tours, inspections and appraisals, contributed to a sharp plunge in home sales activity. As shown in Figure 3, however, swift policy and regulatory intervention, along with low, stable rates and large-scale asset purchases have reduced mortgage backed securities (MBS) spreads, provided market stability and proven supportive of overall housing market dynamics.
Figure 3. Fed policy worked quickly and effectively to alleviate Covid-19 crisis strains in 2020 and has proven supportive since
U.S. Rates and MBS Spread/Yields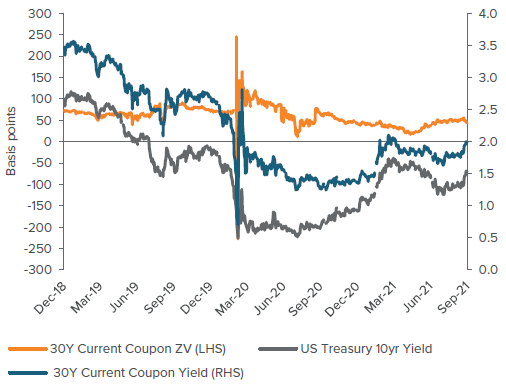 Source: Bloomberg, Voya Investment Management. As of 09/30/21.
But while low rates and the return of market liquidity helped to rejuvenate activity, they also paved the way for the largest mortgage refinancing wave ever. Although the wave initially constrained credit availability for new purchases, credit conditions have since improved with increased lending capacity and an improved fundamental outlook. Crucially, lending conditions have become better while on a reasonably deliberate and sustainable path. 
That said, cash buyers have a definitive upper hand in the pursuit of home ownership, which has created societal stress, particularly in affordable segments of the housing market. While this dynamic has momentum and carries systemically relevant considerations for policy makers and market participants, we do not see it as a threat to market stability.
MBS conditions are modestly distorted
Currently, mortgage backed security spreads - as measured by option adjusted spreads (OAS) — remain tight compared to historical levels, and could widen by as much as 25–30 basis points (bp) upon the conclusion of all large-scale asset purchases.
Figure 4. Despite elevated supply and prepay risk, MBS spreads remain tighter than broader credit spreads
30-year current coupon MBS spreads vs. 5-year investment grade corporate bond spreads

Source: Bloomberg and Voya Investment Management. As of 09/30/21. Chart excludes data from 03/01/20 – 03/31/20.
History also shows that housing market strength is not predicated on elevated MBS valuations. Instead, the housing market shows greater correlation to long-term interest rate changes over time, with the fundamental strength of consumers and technical imbalances within the housing sector playing mitigating roles. If mortgages are too expensive for consumers, whether because rates are too high or incomes are being compressed by downward pressures or higher prices, housing demand suffers.
As Figure 5 shows, homeowner mortgage rates are more sensitive to long-term rates than to large-scale asset purchases (LSAPs). In fact, mortgage rates and spreads remained stable during periods of tapering (circled below in the left display), which correlates to long-term Treasury rates. Furthermore, home sales have been correlated to overall mortgage rates (right display), with one exception being the early part of the pandemic, as discussed above.
Figure 5. Today's financial markets are more dependent, but housing is on a self-sustaining path

Source: Bloomberg, Voya Investment Management. As of 09/30/21.
The virtuous cycle to carry through the current environment
Although growth in the U.S. and across the globe is expected to cool from its current, torrid pace in future years and macro uncertainties remain, fundamentals are broadly robust, especially among consumers and in the U.S. housing market. While we do expect record-setting rates of home price appreciation to ease in coming months, we firmly believe these gains will be preserved and prove  long-lasting. We choose not to fixate on the taper timeline and what it could mean for monetary policy, or on the cyclicality of inflation, or overblown worries about stagflation. Rather, we believe that the new levels reached during the housing rally will not only be sustained, but will be a positive force pulling us through inevitable bouts of uncertainty in markets and the economy.