Executive Summary: Will the Next Decade Look Like the Last?
Help Needed—Traditional Approaches Can No Longer Do It All: While traditional core and core plus fixed income strategies have historically served as a "one-stop shop" allocation to balance risk-seeking allocations, more than a decade of extraordinarily accommodative global central bank policy has ushered in a persistent low-rate environment that has made it challenging for investors to achieve their expected rates of return while balancing risks in their portfolios
More Risk, Less Reward: Traditional core and core plus strategies have historically helped investors meet their capital preservation, diversification and income goals, but the low yield and extended duration profile of the Bloomberg U.S. Aggregate Bond Index ("Agg") make this allocation less efficient today
A Broader, "Solutions Lens" Approach to Fixed Income: The changing landscape requires a fresh approach to building fixed income solutions for clients. We believe that analyzing other fixed income allocations within the context of investors' specific goals and objectives will serve as a blueprint for the future of fixed income investing.
Don't Let the Anchor of Your Portfolio Get Stuck in the Past
Track the Agg? Sure, I Don't Know Why I Would Stop…
The investment landscape has changed dramatically in the last 30 years. While most investors would agree, when pressed, it's unlikely they would associate this "change" with their fixed income portfolio. And for good reason. If you have spent the last 30 years simply allocating to traditional fixed income strategies that track the Bloomberg U.S. Aggregate Bond index, you probably have not noticed the tectonic shift occurring underneath your feet. As Figure 1 shows, performance for traditional "Agg-tracking" strategies has been strong.
Figure 1. Tracking the Agg Has Paid Off…But Can 3+ Decades of Market Tailwinds Really Last Forever?

Source: Bloomberg and Voya Investment Management. As of 12/31/19. Yield is represented as the yield for the Bloomberg Aggregate Bond index at the beginning of the periods. Future 10-Year Returns as measured by the annualized total return for the index for the next 10-years. Investors cannot invest directly in an index. Past performance does not guarantee future results.
Of course, the performance of the Agg shown in Figure 1 has been on an undeniable downward trend. Positive in each period for sure, but less and less total return as each decade passed. Why is that? Well, there is an old saying, sometimes it's better to be lucky than good. The performance of the Agg is heavily tied to the direction of interest rates. As interest rates go down, the Agg goes up. Lucky for investors in traditional Agg-tracking strategies, interest rates have been going down…and down…for a very long time (Figure 2).
Figure 2. Falling Interest Rates Have Driven the 4+ Decade Bond Rally…But How Much Lower Can Rates Go?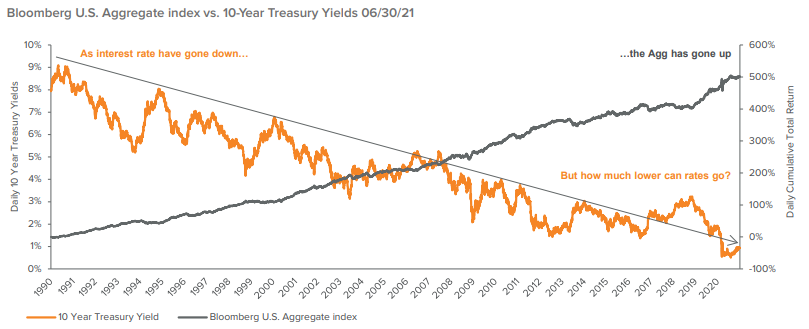 Source: Bloomberg and Voya Investment Management. As 06/30/21.
More Risk, Less Yield: As the Agg Turns
The downward trend of interest rates has been fueled by the Federal Reserve's unprecedented response to help navigate the U.S. economy through two major crises: The 2008 financial crisis and the COVID-19 global pandemic. To keep the economy afloat, the Fed has adopted and maintained extremely accommodative monetary policy, a stance that has accelerated the downward trend of interest rates and has held them at unusually low levels for a prolonged period of time.
Why is this relevant for investors in traditional fixed income strategies that track the Agg? As Figure 3 shows, this backdrop has forced fixed income investors to take on significantly more risk without a commensurate increase in reward, i.e., yield. In 1990, the Agg had a duration of 4.55 years and yielded 8.5%. Today, not only does the Agg have a riskier duration profile at 6.22 years, it yields significantly less, with a yield of only 1.50%.
Figure 3. Now and Then: The Agg Has More Duration Risk and Less Yield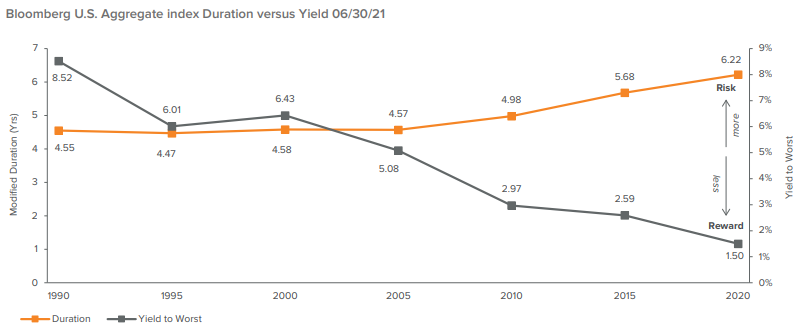 Source: Bloomberg and Voya Investment Management. As 12/31/20.
Indeed, interest rates have been on a downward trend for more than three decades, which has translated to strong performance for traditional fixed income strategies that track the Agg. However, there is not much room left for interest rates to continue falling. And what happens when interest rates rise? Spoiler alert: it's not pretty.
While the general direction of interest rates has certainly been lower, there have been pockets over the last 30 years when rates have spiked. Figure 4 provides a glimpse of what a longer-term upward trending rate environment might mean for traditional fixed income strategies that track the Agg
Figure 4. The Ghost of Interest Rates Future: What Could Happen if Rates Reverse their 30+ Year Downward Trend

Source: Bloomberg and Voya Investment Management.
Conclusion: Don't Let the Anchor of Your Portfolio Get Stuck in the Past
So…would you buy your fixed income portfolio today? Answering this question should reinforce the primary role of fixed income in a broader portfolio. Fixed income allocations are not about immunizing your portfolio against one specific type of risk. Fixed income allocations should protect portfolios from risk on multiple fronts. In this regard, adding flexibility can significantly enhance the risk profile of a fixed income portfolio.
For more than 30 years, conventional wisdom has prescribed Agg-tracking strategies as a "one-stop shop" for the three primary roles of fixed income in a broader portfolio: capital preservation, diversification and income. However, the current make-up of the Agg (more risk, less reward) makes this approach to the asset class unsustainable. To successfully navigate the path ahead, investors should consider a new blueprint for fixed income, one that maximizes efficiency and diversifies against multiple risks.
For example, to manage volatility in fixed income portfolios driven by interest rates, we believe investors should complement Agg-based strategies with a more flexible unconstrained strategy that can add diversification through exposure to an array of credit sectors. Meanwhile, allocations to high-quality GNMA bonds that are backed by the full faith of the U.S. government can also add a layer of diversification to help investors prepare for "event risk" and bolster the ever-important capital preservation function of their fixed income portfolio. In addition, with yields for traditional fixed income currently so low, increased allocations to spread sectors such as securitized credit, high yield and emerging market debt can help support investors' income objectives.
The combination of these ingredients will vary based on investors' specific objectives but as a foundation, we believe this disaggregated approach is the blueprint for the future of fixed income.
IM1758058
This commentary has been prepared by Voya Investment Management for informational purposes. Nothing contained herein should be construed as (i) an offer to sell or solicitation of an offer to buy any security or (ii) a recommendation as to the advisability of investing in, purchasing or selling any security. Any opinions expressed herein reflect our judgment and are subject to change. Certain of the statements contained herein are statements of future expectations and other forward-looking statements that are based on management's current views and assumptions and involve known and unknown risks and uncertainties that could cause actual results, performance or events to differ materially from those expressed or implied in such statements. Actual results, performance or events may differ materially from those in such statements due to, without limitation, (1) general economic conditions, (2) performance of financial markets, (3) changes in laws and regulations and (4) changes in the policies of governments and/or regulatory authorities. The opinions, views and information expressed in this commentary regarding holdings are subject to change without notice. The information provided regarding holdings is not a recommendation to buy or sell any security. Fund holdings are fluid and are subject to daily change based on market conditions and other factors.
Past performance is no guarantee of future results.