| | |
| --- | --- |
| | The following content has been prepared by Allianz Global Investors GmbH (AllianzGI), and is reproduced with permission by Voya Investment Management (Voya IM). Certain information may be received from sources Voya IM considers reliable; Voya IM does not represent that such information is accurate or complete. Any opinions expressed herein are subject to change. Nothing contained herein should be construed as (i) an offer to buy any security or (ii) a recommendation as to the advisability of investing in, purchasing or selling any security. |
Please find below our latest thoughts on China, as of 4 May 2023:
April was a frustrating month for investors. While the economy is clearly recovering, the equity markets are not – for now at least.
Q1 GDP growth of 4.5%1 was significantly ahead of expectations, yet China equities ended the month lower. Overall, China A-shares were more resilient and remain in positive territory year to date, while offshore equities are close to flat (USD terms).2
Indeed, nobody seems to be completely satisfied with China's economic rebound, not even top government officials.
Chart 1: CSI 300 – performance of State Owned Enterprises (SOEs) compared to private companies, rebased to 100 from 2010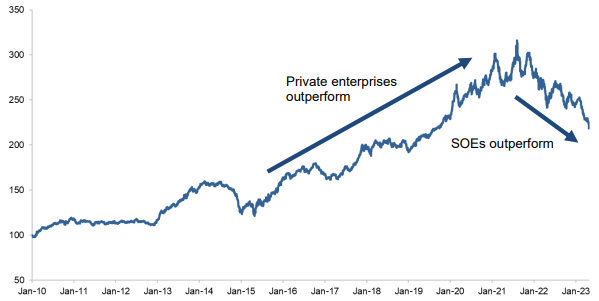 Source: Goldman Sachs as at 28 April 2023
The Politburo meeting at the end of April – the first top-level signal of economic policy since December – painted a balanced picture and did not attempt to sugarcoat the situation.
Their summary was "economic growth is better than expected, and market demand has gradually recovered… But the positive turn in the economy is still mainly from a recovery; internal dynamism is not strong, and demand is still insufficient." 3
In a nutshell, while previously repressed forms of consumer spending are recovering fast, the industrial sector is a lot slower. And private sector investment is barely growing yet.
The main doubts are around the sustainability of the recovery and uncertainty about future policy – specifically whether an excessively fast rebound would be used to tackle other structural issues (think intervention in the tech sector, leverage in real estate, etc).
To that end, the Politburo announcement is more important than usual, as it provides reassurance that supportive policies will continue and not be removed just because of a turn in the data.
Having said that, economic policy continues to be a balancing act. While we have seen the end of austerity, we should not expect major stimulus or government handouts. There is clearly a strong, ongoing aversion to additional debt.
Property is a good example. Housing policy is now the most supportive in years – mortgage rates are at historic lows, home purchase restrictions have been removed in many regions, and real estate companies have much-improved access to funding.3
As a result, the construction of many stalled projects has resumed, and property sales are running ahead of year-earlier levels.4
Nonetheless, with fundamental demand for housing having peaked, the government has also made it clear that property will not be the same future growth driver that it once was. As such, other than some minor tweaks, significant further support for the housing market is unlikely.
Instead, as the Politburo made clear, industrial policy will take centre stage, oriented around "the construction of a modernised industrial system that supports the real economy". 5
So where does this leave us? While equities have experienced a reality check in recent weeks, nonetheless economic momentum looks to be broadening. As the labour market tightens, we think there should be room for incomes and spending to improve further.
Indeed, consumer finances generally appear in good health, with household bank deposits rising by a further RMB 9.9 trillion in Q1 2023 (around USD 1.5 trillion) – compared to RMB 7.8 trillion in Q1 2022.6
The lack of consumer and business confidence to date has also played a role in a key trend within equity markets, which is the marked outperformance of state-owned enterprises (SOEs).
The trend was clear in 2022 in the real estate sector, when SOE developers used their financial muscle to significantly grow market share. And following another set of SOE reforms this year focused on increasing return on equity and operating cash flows, the outperformance has spread to other sectors.
Whether expectations of fundamental improvements in SOE profitability will be achieved is open to question. But it is encouraging to see that domestic investor spirits can easily be rekindled when there is belief in a story – as seen in a number of new SOE-focused exchange-traded funds (ETFs).