| | |
| --- | --- |
| | The following content has been prepared by Allianz Global Investors GmbH (AllianzGI), and is reproduced with permission by Voya Investment Management (Voya IM). Certain information may be received from sources Voya IM considers reliable; Voya IM does not represent that such information is accurate or complete. Any opinions expressed herein are subject to change. Nothing contained herein should be construed as (i) an offer to buy any security or (ii) a recommendation as to the advisability of investing in, purchasing or selling any security. |
Please find below our latest thoughts on China, as of 31 March 2023:
Recent weeks in China have been notable for the efforts to reboot private sector confidence.
There have been several high-profile signs of "walking the talk" since new Premier Li Qiang – effectively now the number two to President Xi Jinping – used his first press conference earlier this month to focus on economic growth and an understanding of how important the private sector is to China's economy.
The most obvious signal has been the return of Jack Ma to China for the first time, publicly at least, in more than a year. An iconic figure in the country, his presence at a school he founded in Hangzhou attracted widespread media coverage – clearly no coincidence.
Chart 1: YTD share price comparison - major restaurant chain and sportswear provider in China (rebased to 100, HKD)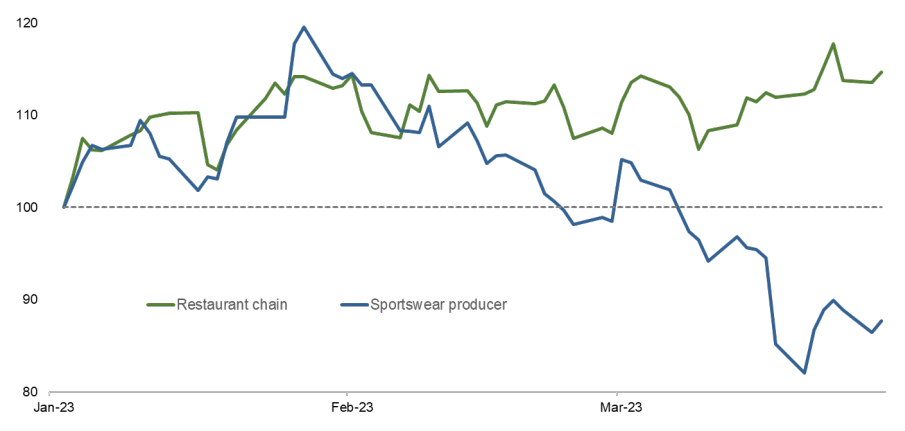 Source: Allianz Global Investors, Refinitiv as of 28 March 2023
This was swiftly followed by news of Alibaba's restructuring, interpreted as a sign that the regulatory environment for internet platforms continues to improve.
Along the same lines, the CEO of Tencent, Pony Ma, was pictured having a meeting with Li Qiang. And the Mayor of Beijing City visited Meituan – the food delivery giant – to praise its business and the creation of job opportunities.
Together with a cut in the reserve ratio requirement (RRR) on 17 March, which reinforces the supportive monetary policy environment, the message is clear. This is all about restoring the confidence of corporate leadership after the prolonged economic downturn.
The timing of this push coincides with growing evidence that China's economic recovery is proving to be uneven.
Some areas are bouncing back strongly. Services, for example – restaurants are busy and box office revenue is seeing good growth.
But across consumer goods, it's a mixed picture. Luxury items appear to be doing better than middle-income products (think sportswear or home appliances).
The cautious consumption recovery is also linked to question marks over the sustainability of the housing market rebound.
Chart 2: China property completions – Year-on-Year % change (3 month moving average)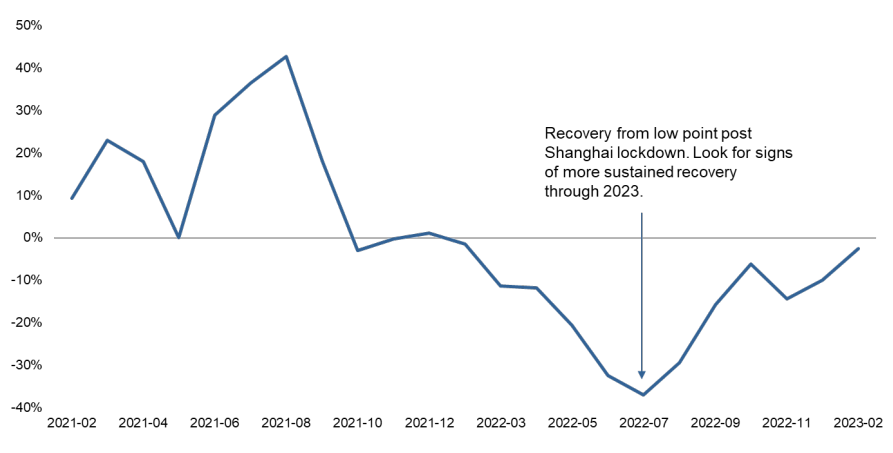 Source: Wind, 28 February 2023
There have been some green shoots in the property market, especially in larger cities. Transaction volumes have picked up. And a recent prime site in Beijing attracted bids from more than 40 developers.1 But confidence at this stage remains fragile.
Indeed, the search frequency index for the word "mortgage prepayment" on Baidu – China's equivalent of Google - surged to its highest level in February since the index began in 2011 and has remained elevated in recent weeks.2 The takeaway is that many consumers are still more in deleveraging than spending mode.
We can also see this in the somewhat subdued risk appetite from investors in mainland China.
Sentiment proxies such as margin financing balances and the level of equity exposure in domestic mutual funds have both picked up but remain at quite cautious levels. This is in contrast to foreign investors who have bought approximately USD 25bn through Stock Connect year to date.3
With retail investors in mainland China accounting for around 70% of daily trading volumes4, a recovery in local confidence is a key ingredient for the future performance of China A share markets.
In our view this will happen, especially with the more supportive policy environment. But the timing is uncertain as the scars from the Covid-19 lockdowns take time to heal.
But valuations remain attractive especially given that we should be at the trough of the earnings cycle. The forward price-to-earnings ratio of the MSCI China A Onshore Index is around 12x – reasonable in absolute terms and also below the longer-term average level of around 14x.5