Covid-19 presented a real-time test of private credit's ability to withstand stress. Voya met the challenge through its team experience and proactive response.
Real-time stress test
While most stress-testing scenarios are hypothetical, the Covid-19 global pandemic provided a real-time test of the strengths of investment grade private credit as an investible asset class. The pandemic stressed the credit environment in ways that demonstrated the added value of the Voya private placement team's differentiated strategic approach to private credit management.
Crisis grips the markets
The response to combat Covid-19 was singular: the world economy was artificially put on hold to combat the spread of the virus — an effect analogous to pulling the emergency brake on a speeding train. The braking of economic activity had the most significant consequences for industries such as live events, travel, leisure and even education. Massive operational and supply chain interruptions impacted companies across most industries. Covid-induced shutdowns severely impacted the credit markets, including private credit, which saw rapid widening of yield spreads relative to U.S. Treasurys (Figure 1).
Figure 1. Private credit yield spreads widened dramatically during the Covid lockdowns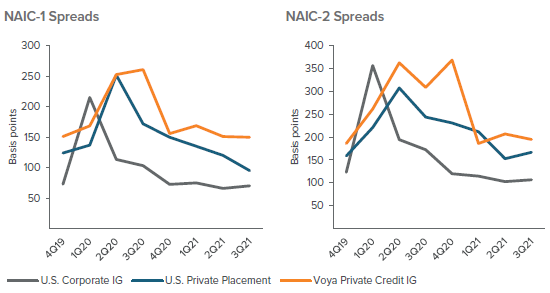 Source: Voya Investment Management, BAML US PP Market Snapshot and Barclays Bank PLC 2021. Index: Bloomberg U.S. Corporate, data as of 09/30/21. Past performance does not guarantee future results.
In response to the shocks of the Covid crisis, governments around the world enacted massive support programs help keep the global economy afloat. As the impacts spread during the second quarter of 2020, it was apparent that participants in the private credit markets needed to undertake defensive measures.
Response is critical but experience is differentiator
Voya's private credit team recognized that this singular situation demanded a full-on, proactive response. Seeking to protect our clients' interests, we had an all hands-on deck strategy to immediately evaluate our entire portfolio, focusing in on the most affected sectors and credits. We analyzed each client portfolio in its entirety, highlighting impacted credits and sectors; where necessary, placing securities on watch or downgraded them. Speed is critical but we also needed to re-assess the market given the massive changes that had taken place. For the sectors and credits of concern, there were two critical questions driving our credit reviews:
Is there sufficient liquidity to outlast years of potential shutdowns?
Do we still believe the company will continue as a viable business model given the shifts in market demand?
Our teams spent countless hours speaking directly with our company's management teams about what each market was dealing with in terms of changes to demand and impacts to pricing and revenue. Out of these management discussions came the realization that a significant portion of the portfolio would violate covenants. Because we anticipated many companies would likely be coming to us for amendments, we turned our focus to determining what each company's liquidity would be for the foreseeable future. The knowledge gained from these early conversations allowed the team to gain a deep understanding once companies did approach us in relation to covenant violations, because we were already aware of how each company was dealing with its individual situation. Further, we had already assessed whether or not the companies would have sufficient liquidity and a sustainable business model moving forward.
Figure 2 illustrates how our portfolio was directly impacted. Out of our 400 credits, we were able to assess quickly and determine the 13% of the portfolio we viewed at potential risk of credit concern. We met with all of these management teams pro-actively and determined that only 11% of the borrowers needed to Covid-related amendments.
Figure 2. Screen of private credit portfolio for potential Covid-related concerns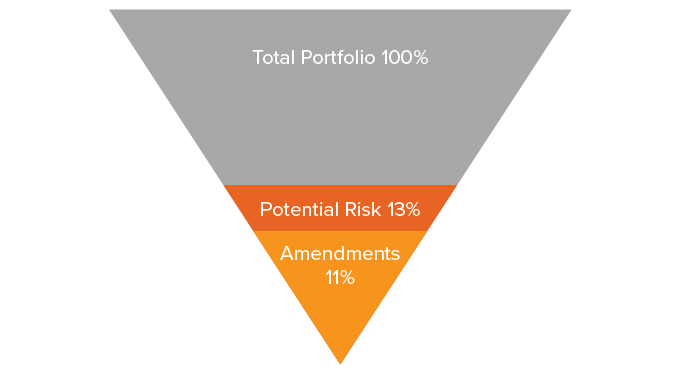 Source: Voya Investment Management
As a result of this work, the team maintained total transparency with our clients, preparing analytic packets that clearly assessed each client's risk exposures, had in-depth calls going through each issue in their portfolio and briefing them on options for action as needed.
Case study
Company A: Provides food and beverage servicing across subsidiary locations in the United States and globally. The team has had a long-standing relationship with the family-owned business, which in the past has never come close to violating a covenant. The company was one of few to survive and thrive in the global financial crisis (GFC) and has once again proven our team's fundamental credit thesis by fully recovering from the Covid-19 headwinds.
1Q20: Team engages with company management to address liquidity and potential short-term covenant waivers
Team then provides clients with a credit update including the decision to downgrade the credit from BBB to BBB-, with a negative outlook
2Q20: Team downgrades the credit from BBB- to BB+, with a negative outlook
Short-term covenant waiver granted to suspend the primary covenant test — a leverage ratio of no more than 3.5x — through 1Q21
In exchange for the flexibility the company agrees to:

Stringent minimum monthly liquidity tests
Restrictions on dividends, investments and further indebtedness
A 175 bp coupon bump

Team issues a credit update informing clients of the amendment and internal rating downgrade
Fall 2020: Company sells half of its subsidiary interest and identifies four other asset sales to be finalized in the first half of 2021
Year-end 2020: NAIC issues downgrade from NAIC 2- to NAIC 3. This rating action by the NAIC was anticipated and in line with our expectations
1Q21: Team provides clients with a credit update highlighting the recent news from management confirming the company will achieve and maintain a D/EBITDA below 3.5x (original covenant) by the end of 2Q21. Team anticipates upgrading internally back to investment grade before 4Q21
2Q21 noteholder update: One of the identified asset sales closes and three others remain on target to close before the end of the restricted period (06/30/2021) 2Q21: Company achieves 50% higher revenues for 1H21 versus 1H20
3Q21: Team issues a credit update announcing the company has exited the restricted period and the coupon bump of 175 bp will no longer apply. In addition, the team has internally upgraded the credit rating back to BBB
We expect the NAIC to upgrade the credit back to NAIC-2 in the next review cycle, given the rebounding performance of the company and actions taken by management.
An advantageous time to invest
Because of our early response and understanding of the demand impacts in various sectors, we were able to take advantage of unique investment opportunities that presented themselves for about a year after March 2020. Spreads widened considerably across the market and clients were able to see significant additional value in lower risk offerings (Figures 3 and 4).
Figure 3. Widening credit spreads led to opportunities in U.S. private placements
Credit Quality of U.S. Private Placement Issuance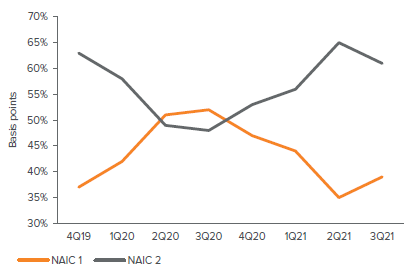 Source: Bank of America Merrill Lynch USPP Market Snapshots, yield spreads in basis points (bp), using National Association of Insurance Commissioners NAIC-1 and
NAIC-2 credit rating criteria. As of 09/30/21. Past performance does not guarantee future results.
Figure 4. Voya production 2001–3Q21
Source: Voya Investment Management. Past performance does not guarantee future results.
In crisis, covenants are guardrails, not drivers
Covenants and negotiated deals give private credit an advantage in downturns, but the knowledge of the team and their reaction is more important given the asymmetrical return nature of fixed income (limited upsize but large potential capital losses in crisis)
Long-term issuer solvency is key, but must be monitored and assessed closely case by case
Full transparency with clients (and not just saying that all is okay) is critical to navigating challenging times
Outcome
The structural protections of the asset class could be utilized during the time of Covid. But the most effective response came not from passive, covenant guardrails but from proactive, thoughtful, informed responses to each specific situation.
Thanks to our team's thorough due diligence, strong adherence to structural protections and selectivity on the front end, our portfolio experienced absolutely no credit losses or impairment as a result of Covid-19. This success was due to the multi-decade experience of the Voya private credit team, which has been through many credit cycles together. As the saying goes, this was not our first rodeo, and won't be our last.
Figure 5. Total return of Voya private credit portfolio, 2Q20–3Q21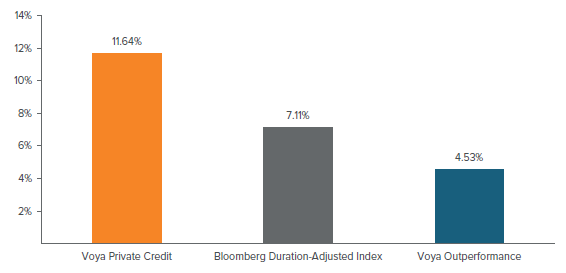 Source: Voya Investment Management. Past performance does not guarantee future results.
Estimating private credit performance during crisis periods
Given the private nature of this market, industry performance during this time period likely will not be published for some time. To get a sense of what might be expected, we can see how the industry performed during the global financial crisis (GFC), though it should be noted that past performance cannot guarantee future results. Figure 6 presents the results from a Society of Actuaries study on credit loss experience for private placements from 2003–2012, which included the GFC impact.1
Figure 6. Private credit industry performance during the global financial crisis
Recovery Rates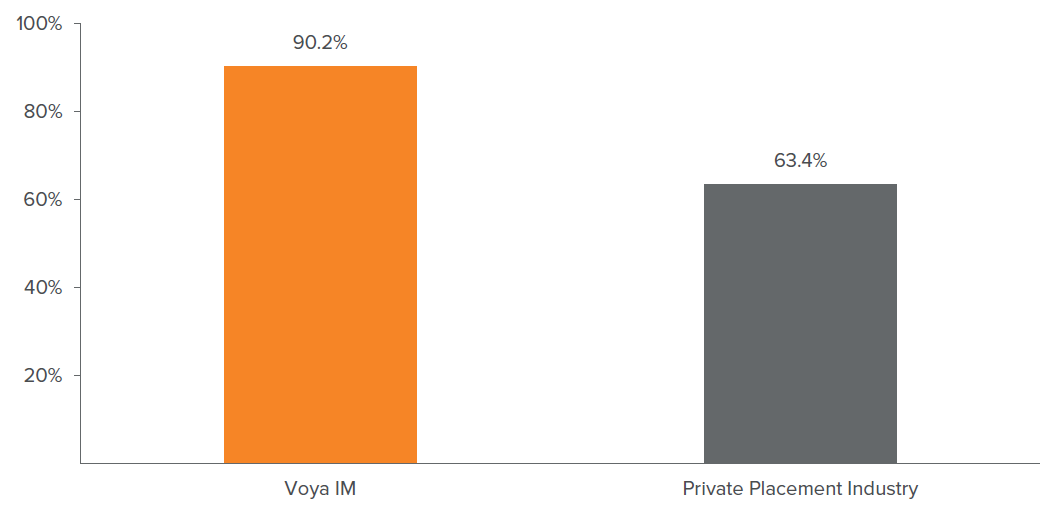 Source: Voya Investment Management internal calculations, based on Society of Actuaries data. Past performance does not guarantee future results.
The private placement industry recovery rate of 63.4% was driven by the structural protections that covenants provided; it was significantly higher than the investment grade bond recovery rate, which historically has been about 46%. By contrast, the Voya IM recovery rate was about one-third higher than the private placement industry average. We believe this difference is related to our highly experienced team, the selective nature of our investments, the high rigor and standards for our covenant protections and Voya's ongoing, close monitoring process. While past performance does not guarantee future results, this process was tested again during the Covid-19 period ― the outcome for our clients was no losses in their portfolios.