GNMAs can be a compelling way to defend against unexpected market shocks, offering a risk profile similar to Treasuries but with higher yields.
Highlights
What are GNMAs: GNMA bonds are privately issued mortgage-backed securities that enjoy the full faith and credit of the U.S. government, offering diversification benefits compared with other short-term investment instruments and attractive yields relative to Treasury bonds.
An anchor during market shocks: Historically, GNMA bonds have outperformed when equities and credit securities decline, helping to generate positive returns through bear markets.
Why GNMAs now: Soaring mortgage rates have massively reduced prepayment risk, creating what we believe is one of the most compelling entry points for GNMA bonds in more than 20 years.
What are GNMAs?
GNMA bonds are any privately issued mortgage-backed securities guaranteed by the Government National Mortgage Association (GNMA, also known as "Ginnie Mae") to have timely repayment of principal and interest. GNMA is a wholly owned government agency established in 1968 to guarantee mortgage-backed securities for single-family and multi-family loans insured by various government agencies. GNMA bonds are the only mortgage-backed securities that enjoy the full faith and credit of the United States government.
Exhibit 1. GNMAs offer attractive yields over Treasuries
Yield to worst

As of 05/31/23. Source: Bloomberg, Voya IM. Yield to worst is the minimum yield that can be received on a bond. Duration is the weighted measure of the length of time a bond will pay out. Past performance is no guarantee of future results. See back page for definitions and important disclosures.
GNMAs can be an anchor during market events
Investors seeking relative safety typically consider instruments such as U.S. Treasuries, money market funds, short term bond funds, or cash. Unfortunately, cash and money market instruments do not offer the diversification potential of GNMA bonds, and U.S. Treasuries offer less yield relative to GNMAs.
GNMA bonds have a history of mitigating risk and delivering attractive yield through a variety of market environments, helping investors navigate an uncertain market environment. Few "low-risk" bond sectors have delivered this protection historically, including short-term bond strategies.
For example, the S&P 500 has declined in 28 of the 93 quarters since the start of 2000. GNMA bonds had positive returns in a large majority of these periods, and frequently outperformed the fund averages for the Short-Term and Ultrashort Morningstar peer groups. Notably, GNMAs had positive returns in periods of extreme volatility, such as the global financial crisis and Covid. By contrast, the average ultrashort and short-term bond fund had negative returns during these crises, as they may include more credit risk than investors realize.
One notable exception was in 2022, when aggressive rate hikes by the Federal Reserve created substantial headwinds for most fixed income sectors, including GNMA bonds.
Exhibit 2. When stocks have struggled, GNMA bonds have often been resilient
Quarterly total return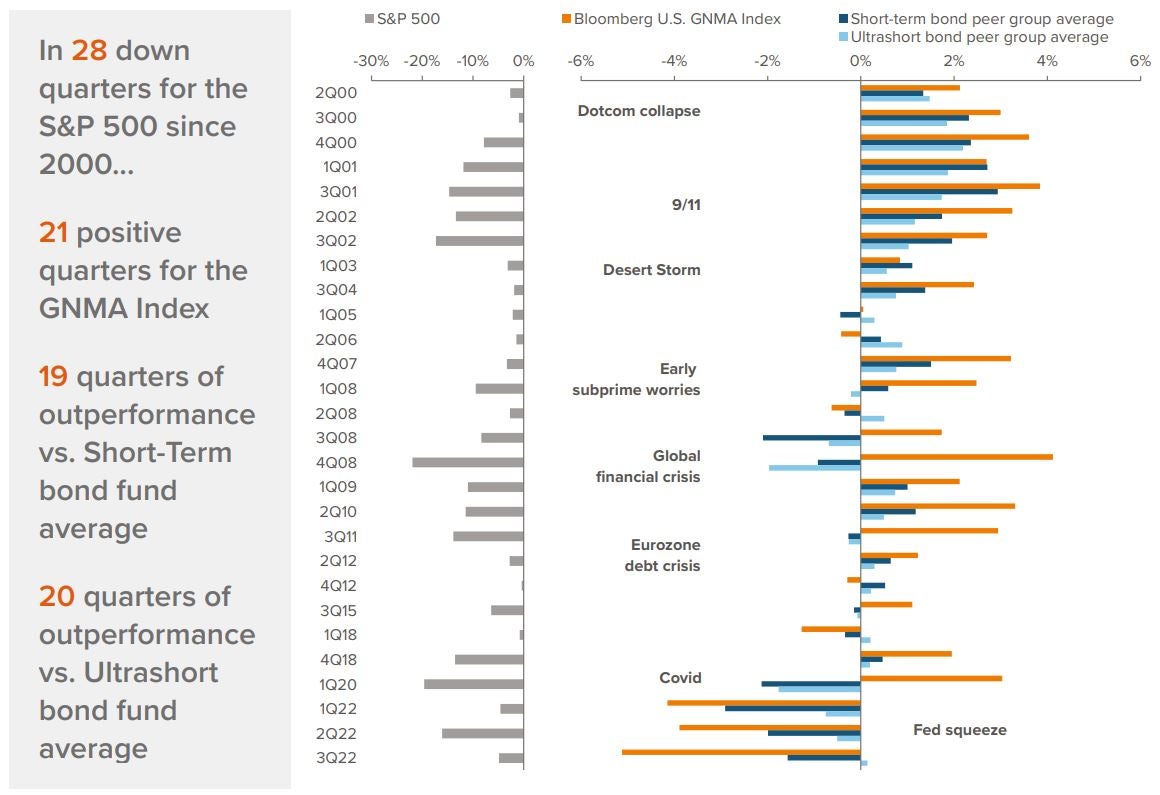 As of 05/31/23. Source: Standard & Poor's, Morningstar, Voya IM. Past performance does not guarantee future results. See back page for definitions and important disclosures.
How do GNMA bonds compare with various "low risk" alternatives?

Why GNMAs now
Historically, the benefits of falling interest rates on GNMA bonds have been tempered by the resultant increase in mortgage refinancing. Today, however, recent years have provided opportunities to purchase a new home or refinance a higher-rate loan at historically low mortgage rates. As a result, many homeowners are sitting happily with mortgage rates that are significantly lower than the current prevailing rate.
This means there would need to be a substantial move lower in rates to bring back the financial incentive to refinance. Said another way, the "option" homeowners have to "call" their mortgage is deep out of the money, and negative convexity is near zero. We believe this situation makes GNMA bonds a historically attractive diversifier.
Exhibit 3. Surging mortgage rates have improved the outlook for GNMAs
Mortgage rate

MBS convexity

As of 05/31/23. Source: Freddie Mac (Primary Mortgage Market Survey), Bloomberg.
Key takeaways
GNMA bonds offer investors the backing of the U.S. government, and have historically provided diversification potential, often outperforming when equities and credit securities decline.
GNMAs often carry a higher yield than U.S. Treasuries, as they do today.
We see a compelling entry point in GNMA bonds; in an interest rate rally, investors should reap the benefits with limited headwinds, as the option for many homeowners to refinance their mortgages is deeply out of the money.