Weekly Notables
Performance in the US loan market was challenged this week, as concerns about the banking system caused choppiness across broader financial markets. The Morningstar® LSTA ® US Leveraged Loan Index (Index) returned –1.27% for the seven-day period ended March 16. Meanwhile, the average Index bid price declined by 138 bp, closing out the period at 92.83.
Given the market backdrop, activity in the primary market was subdued. Looking at the forward calendar, net of the anticipated $13.8 billion of repayments not associated with the forward pipeline, the amount of repayments now outstrip new supply by about $4 billion, versus $3.2 billion in the prior estimate.
In the secondary market, trading levels moved lower across the board. Given the significant macro concerns and risk-off tone, riskier credits underperformed higher-rated credits. This week, Double-Bs, Single-Bs and CCCs returned –1.04%, –1.39% and –1.81%, respectively.
Turning to the investor demand side, managers priced six new CLO deals this week, bringing YTD levels to $27.57 billion. On the other hand, retail loan funds experienced the largest weekly outflow of the year, at about $1.64 billion (Morningstar Direct).
There was one default (Diamond Sports Group) in the Index this week, as the trailing 12-month default rate by principal amount moved higher to 1.32% (from 1.02% in February).
Average Bid
March 1, 2019 to March 16, 2023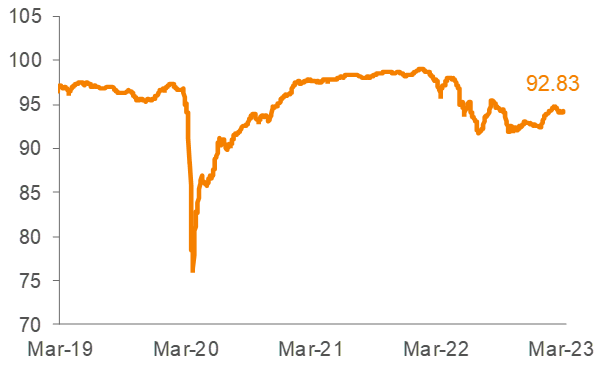 Average 3-YR Call Secondary Spreads1,2
March 1, 2019 to March 10, 2023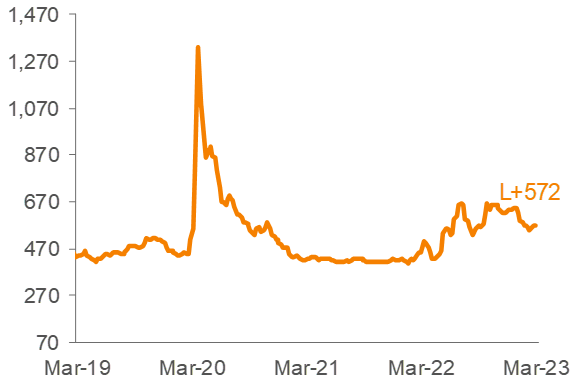 Lagging 12 Month Default Rate3
March 1, 2019 to March 16, 2023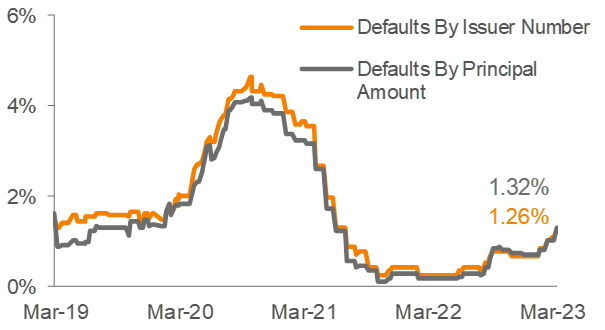 Source:  Pitchbook Data, Inc./LCD, Morningstar ® LSTA ® Leveraged Loan Index. Additional footnotes and disclosures on back page. Past performance is no guarantee of future results.   Investors cannot invest directly in the Index. *The Index's average nominal spread calculation includes the benefit of base rate floors (where applicable).
Index Stats